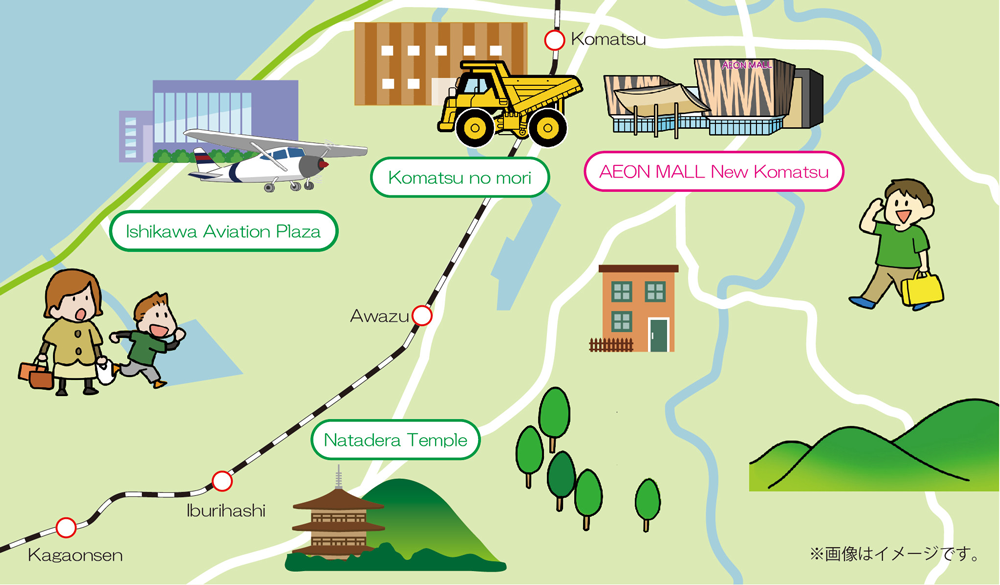 Select to SPOT
Komatsu no mori

Komatsu, celebrating its 90th anniversary, opened the facility "Komatsu no mori" in 2011. Based on the concept of "City of Vehicles", together with the Aviation Plaza and Komatsu Airport, the facility exhibits a Komatsu 930E, one of the largest dump trucks in the world. Visitors will have free access to "Waku Waku Komatsu kan", which is a reproduction of their former main office building.

Ishikawa Aviation Plaza

From small aircrafts to jet planes, the facility exhibits 18 actual aircrafts and various models and panels. Visitors will be able to learn about the history and construction of aircrafts, along with the principle of flight by using equipments such as the wind tunnel devise.

Natadera Temple

The special head temple of Koyasan Shingon Sect. The vast precinct is famous for its magnificent scenery of strangely formed rocks, and also for its splendid autumn foliage. It is a historic temple surrounded by beautiful rocks and seasonal flowers established by Priest Taicho in the Nara Era.
Get Direction